Looking for plants to grow in a hanging basket that will be hung in a shady location?
Whether you're purchasing a hanging basket with plants already in it or putting together your own hanging basket, choosing plants for your hanging basket can be difficult — especially if the hanging basket will get little to no sunlight exposure.
In this article, we put together a list of some popular shade-loving plants that we have found to grow great in hanging baskets.
Keep in mind, this is just a sample of plants that work well for hanging baskets in shade. You have other options when it comes to shade-loving plants for your hanging basket; hopefully, this helps you get started.
One final note: many plants will grow well in partial sun/partial shade. This list is made of plants that are ok in full shade, but there are plenty of plants that grow great with half a day of shade.
To jump to a specific plant on this list, click a link below:
Sweet Potato Vine
New Guinea Impatiens
Top 10 hanging basket plants for shade
Many plants will be able to survive in a hanging basket getting a lot of shade, but the below plants are especially likely to thrive in a shady environment.
1. Begonias
With the proper begonia plant care, these plants grow great in full shade (and full sun as well), making begonias a great choice for your hanging basket, no matter where it'll be placed.
Certain varieties of begonias, such as Dragon Wing Begonias or BIG Begonias, grow to be very busy, making them great fillers for your pot. In fact, just 3 plants of these large begonia varieties will fill up the hanging basket.
Add in some vines or draping plants that can handle the shade and you'll have a beautiful arrangement for your shade.
There are many advantages to growing begonia plants, especially in a hanging basket.
If you do choose to plant begonias in your hanging basket, you can check out our post on how often to water begonia plants.
2. Fuchsia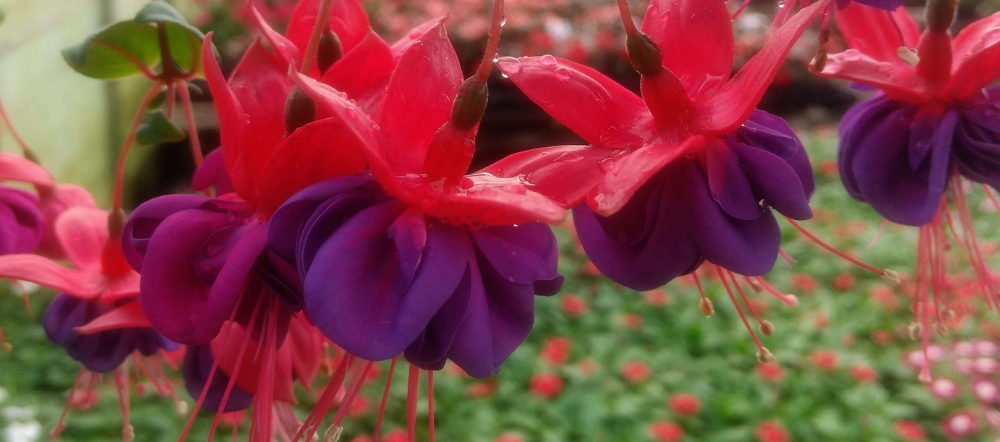 Fuchsia plants have beautiful and unique blooms that can droop over the side of the container they are planted in, making them a popular choice for hanging baskets.
These plants will need a lot of shade in order to keep from wilting or needing to be watered frequently. For this reason, they are great for a hanging basket that won't get too much hot afternoon sun.
Looking for a plant to go with your fuchsia in a hanging basket? Try New Guinea impatiens as a companion plant.
Fuchsia plants branch out with vines and pretty blooms. For a 12″ hanging basket, we typically plant 3 trailing fuchsia plants for each pot.
Our top varieties for hanging baskets are:
Swingtime Trailing Fuchsia
Dark Eyes Trailing Fuschia
3. Coral Bells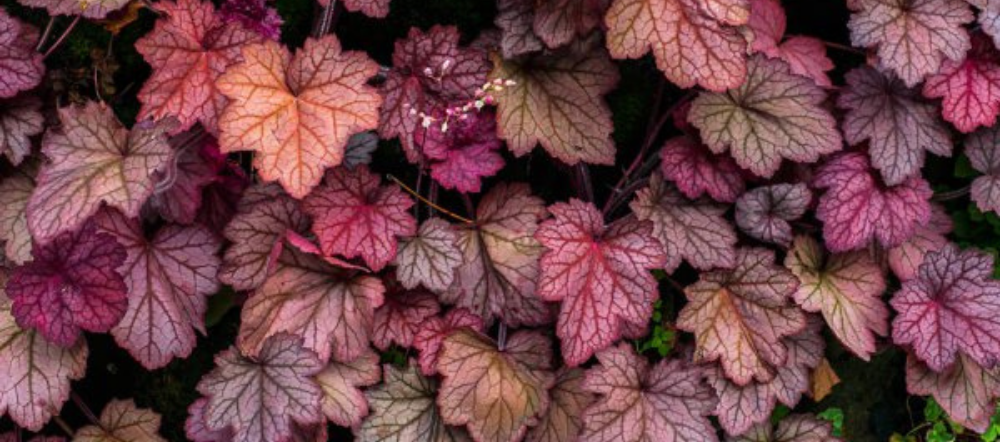 Coral Bells, also known as heucheras, are beautiful shade-loving plants.
Their bright foliage and unique leaves make them a great option for filling your hanging baskets in a shady spot.
4. Ferns
Ferns are a classic shade-loving plant that look stunning when grown in a hanging basket.
Many times these plants are grown under a porch or other shady area to add some style with their distinct green foliage.
Ferns are also easy-care. They typically don't need to be trimmed and won't need a lot of watering.
5. Hosta
Hosta is often grown in shady flower beds but can also grow well in a hanging basket for the shade.
6. Creeping Jenny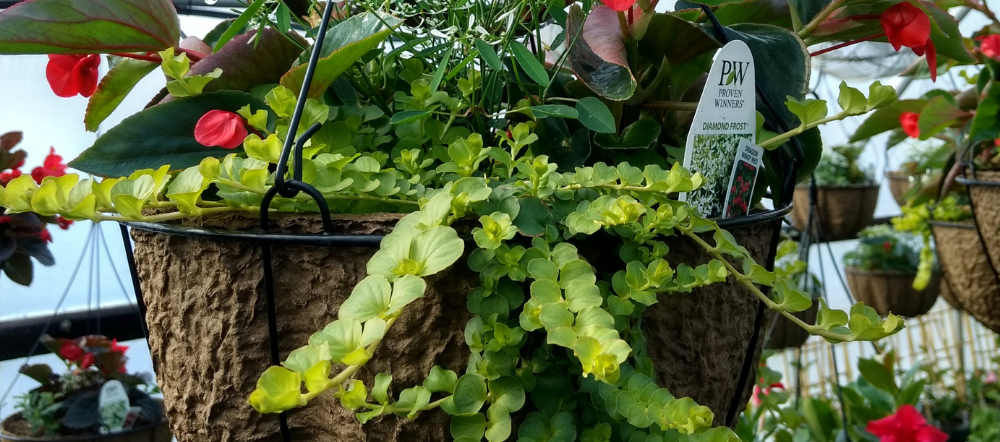 Creeping Jenny plants grow great in full sun or full shade.
These plants act as a "spiller" for your hanging basket. They are a popular choice for shade-loving hanging plants since they are easy-care, add color to the arrangement, and drape over the side of the basket.
Creeping jenny plants grow like a weed when planted in the landscape; however, in a hanging basket, other plants competing for the same soil typically help contain these plants.
Water Creepy Jenny plants moderately when growing them in a hanging basket.
7. Coleus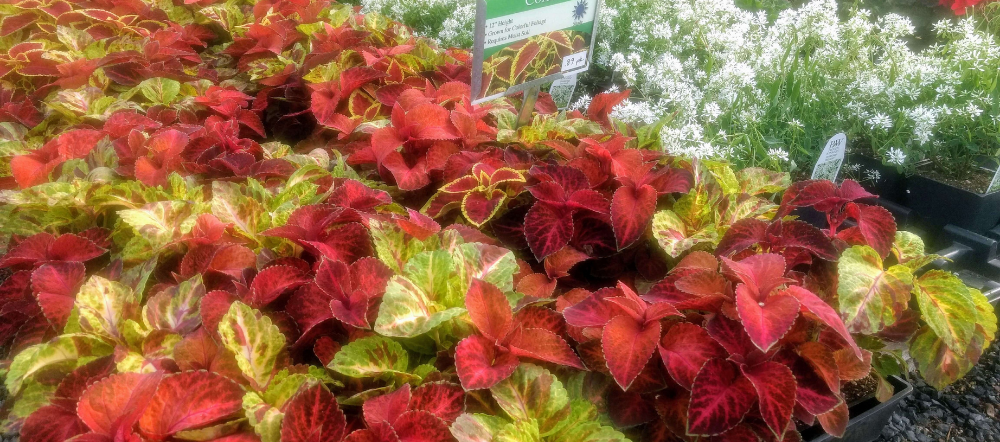 A coleus' bright foliage can make any shade hanging basket a beautiful display. Plant coleus with different varieties to really get a unique look.
Water coleus moderately when growing them in a hanging basket.
8. Impatiens
Impatiens are the ultimate shade plant.
Their bright flowers lighten up darker areas and they thrive with little sun. These plants will really branch out with the right growing conditions, including an adequate amount of watering.
New Guinea impatiens are another great plant (and cousin of impatiens) that can be used for shade-loving hanging baskets.
9. Vinca
While vinca is drought-resistant, it can also grow well in part to full shade.
With the proper watering, vinca plants are sure to brighten up your hanging basket in the shade with their colorful blooms.
10. Bacopa
Bacopa plants don't mind some shade so they are great for shade hanging baskets.
With adequate watering, bacopa plants will produce beautiful little blooms that attract bumblebees and butterflies.
11. Sweet Potato Vine
12. New Guinea Impatiens
Conclusion
Whether you are sourcing plants for your own hanging basket or looking to buy a hanging basket, we hope this post was helpful.
There are many plants that will grow great in a hanging basket placed in a shady location. This list is a starting point to help you put together your perfect hanging basket:
Begonias
Fuchsia
Coral Bells
Ferns
Hosta
Creeping Jenny
Coleus
Impatiens
Vinca
Bacopa
Sweet Potato Vine
New Guinea Impatiens