If you have a friend or family member with geraniums, you can ask if you can take cuttings from his or her plants and start growing your own geranium plants.
Geraniums are beautiful, sun-loving flowers known for their bold red and pink petals. For years, they have been a go-to choice for gardeners all over the United States.
Curious how to take cuttings from a geranium plant? We'll dive into the process and offer some tips to make your experience successful.
What you'll need
To start, you'll need:
A mother geranium plant
A sharp knife or scissors
Seed compost or potting soil
How to take geranium cuttings
To start, take your mother geranium plant and cut off a healthy stem with your knife or scissors. It's best to cut right below a growth joint in the branch.
Next, strip off the lower leaves and small growth stiples on the lower portion of your stem. When finished, you should have a stem with a few upper leaves and a smooth stem on the lower portion.
Now, dip your geranium stem in a water solution. Normal water is fine — sometimes vitamins, such as vitamin C, are added to the water to give the plant a head start.
Finally, place the geranium stem into your seed compost or potting soil.
Repeat this process for however many geranium cuttings you would like to take. It's unlikely you'll have a 100% success rate, so it's advisable to take more than one cutting, even if you only want one plant.
Geranium cuttings care
Keep in mind that whether you are growing cuttings or a mature geranium plant, you'll always want to care for it by:
Giving the plant full sunlight (filtered light or indirect sunlight will be fine for a cutting)
Water the geranium when its soil is dried out
Keep the plant in a warm climate. If getting cuttings from geraniums during the summer this shouldn't be a problem, but during the winter you'll want to keep it in the warmth. Geraniums originated from warmer climates, so are used to warmer temperatures.
Geraniums will grow differently and may require different care if they are grown as houseplants, so keep in mind the differences in care if you are growing your geranium cuttings inside.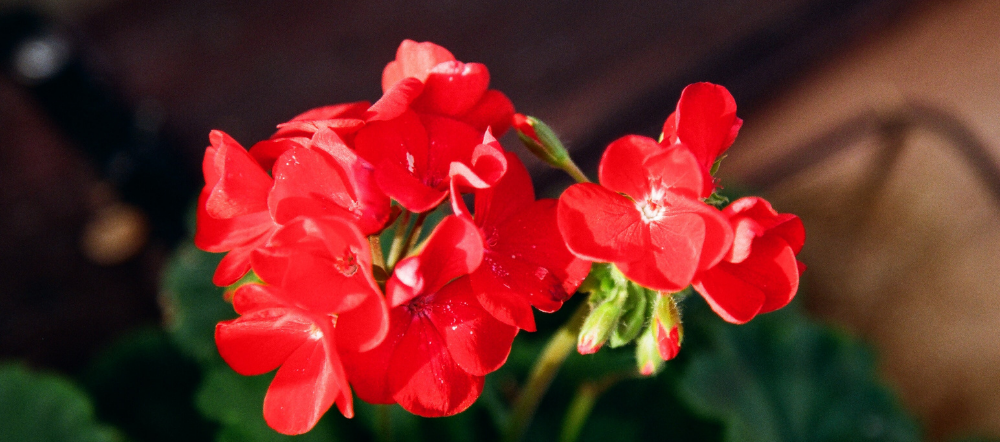 Propagating geranium from cuttings
It will likely take a few weeks for you to start seeing growth from your cuttings, but once you do you are well on your way to new plants!
Tips for geranium cuttings
Feel free to take geranium cuttings at any point. Geranium plants do not go dormant, so timing isn't a problem.
While geraniums are considered perennials in some warmer climates, for most climates, geraniums will be grown as annuals. For this reason, you'll want to make sure the weather is warm enough to support your cuttings if you plan to propagate it. We put together this resource so you know when to plant annuals outside.
Geraniums are prone to rotting in climates with high humidity, so be careful if you are surrounding the plant with a container or have the cutting in a greenhouse.
Conclusion
Taking geranium cuttings and planting additional geraniums can be a fun experience! Geraniums are popular for a reason: give them the warmth, sunlight, and light watering they need and you'll have a beautiful flowering plant!